News > Cyber Security Industry Dialogue 2019
27 Feb 2020
On 22 to 24 April 2019, Organization Islamic Cooperation Computer Emergency Response Team (OIC-CERT) 02/2019 Board Meeting took place at Menara Cyber Axis, Cyberjaya. CyberSecurity Malaysia organize this meeting to share information and discuss current cybersecurity issues through technical sessions to increase efficiency in cybersecurity administrative. Six countries participated in this meeting to discuss membership, working group progress, plan for conference and governance framework and 11th OIC-CERT 2019 Annual Conference to be organized by Badan Siber and Sandi Negara, Indonesia. Four OIC-CERT Board Members, Engr. Bader Al-Salehi, Dr Muhammad Salman (Indonesia), Mr Tural Mammadov (Azerbaijan) and Mr Ahmed Mohamed Helmy (Egypt) participated in Cyber Security Industry Dialog to share cybersecurity landscape in their country respectively. Through OIC-CERT Board Meeting, CyberSecurity Malaysia consolidate and enhance international cooperation in cybersecurity field, increase expertise development opportunity and nurture cooperative bonding between CERT OIC member country.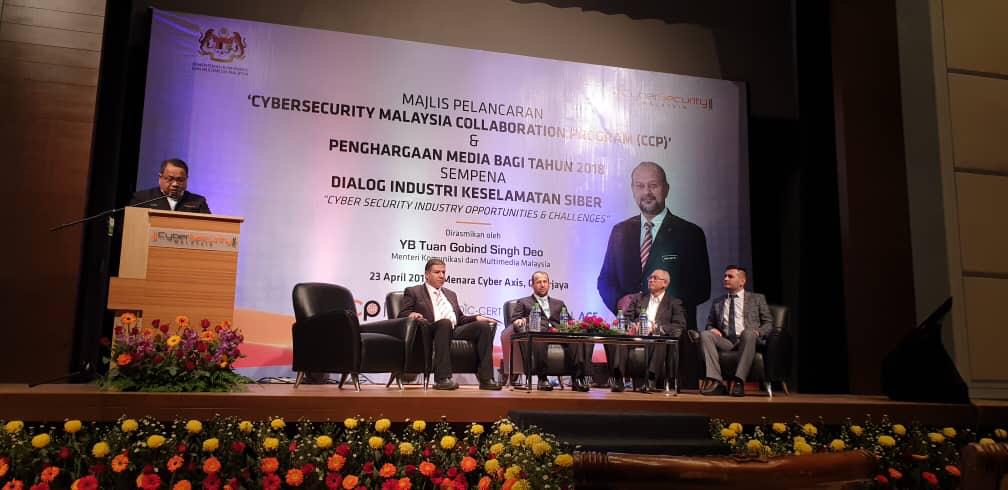 Cyber Security Industry Dialogue 2019 / 23 April
CyberSecurity Malaysia organized Cyber Security Industry Dialog 2019 on 23 April 2019 at Menara Cyber Axis, Cyberjaya. YBhg Dato's Ts. Dr Haji Amirudin Abdul Wahab, Chief Executive Officer, CyberSecurity Malaysia, officiated the dialogue ceremony. 150 industry representatives and Organization Islamic Cooperation Computer Emergency Response Team (OIC-CERT) attended this event. In this Dialog, OIC-CERT panellist from Oman, Indonesia, Azerbaijan and Egypt shared Cyber Security Industry development landscape of their country. The panellists also discussed Product and People Certification Program for Cyber Security Industry development in the local industry. Through Cyber Security Industry Dialog 2019, CyberSecurity Malaysia recognized issues faced by local cybersecurity industry and obtained feedback from industry to strengthen local cybersecurity industry programme.